Camping Gear
Buying the right camping gear will bring you many years of camping without spending more to replace equipment. The right camping gear is made sturdy and with quality material. Of course proper care is important but quality products last longer than flimsy equipment from substandard material.
While there are many quality products available you also have to find the products that are for the particular environment it will be used in. You wouldn't want to carry a tent designed for winter use on a hike in the middle of summer. Winter tents are heavier and provide more insulating factors than a three season tent.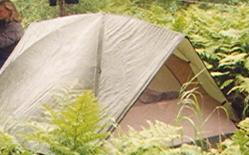 Also, tent flies are designed for particular environments. A full fly that goes to the ground is ideal for a three season tent while a partial fly is better for hot summer camping.
Tent flies serve two purposes, to keep you warm and dry. The tent has screened areas so the tent doesnít keep out the cold air, the fly does. That is why a good three season tent has a full fly that reaches the ground.
The fly also keeps you dry two ways. A good fly is waterproof and the tent is water repellant. Also the fly acts as a dehumidifier when it is cool outside. The property of the dew point is the reason for this. The moisture in the air will collect on a cooler surface. So when the humidity in the tent exceeds the temperature of the fly surface the moisture will collect on the inside of the fly. The moisture then flows down the inside of the fly to the ground. This is why you can wake up with puddles inside your tent when it did not rain. Your tent didnít have enough screen area and the tent acted as the thermal barrier not the fly. You can find out more about tents in the page about tents.
Knowing these little bits of info can help you find camping equipment that will work for you in the environment you will be using the equipment in. You can find this information by clicking a link for a particular item in the Site Map or print out a Printable Camping List.
First Aid Kit
Snake Bite Kit
Bear Pepper Spray
Tent
Tent Footprint
Extra Tent Poles
Extra Tent Stakes
Hammer
Tarps & Ropes
Stove
Camping Lantern
Water Filter
Stove : Lantern Fuel
Ax
Camping Shovel
Wood Saw
Fire Poker
Rebar
Cooking Grate
Fire Starter
Survival Knife
Flint and Steel Kit
Water Container
Sleeping Bag and Sheet
Self Inflating Air Mattress
Pillows
Chair
Flashlight
Rain Gear
Clothes


Camera
Gps or Map and Compass
Hiking Jacket
Cookware
Spit
Camper Pie Irons
Water Boiling Pot
Coffee Pot
Can and Bottle Opener
Cups
Eating Utensils
Trash Bags
Food and Seasonings
Toilet Paper
Towels and Soap
Tooth Paste and Brush
Sun Block
Insect Repellent
Medications

If you take your dog

Collar and Leash
Training Collar
Dog Bowl
Food
Treats
Dog Medication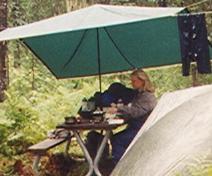 When you go camping you are usually have space limitations on how much gear you can bring. So you want equipment that is versatile. The equipment is not limited to just one use, Such as using a trekking pole to support a tarp and pants with zippers to convert to shorts. By using versatile items you save space and weight. If you use a car to go camping this not seem like much but if you carry your gear on your back while backpacking the weight and space will make a huge difference.
The best camping gear doesnít have to be the most expensive. There are many manufacturers that make quality camping equipment. The best gear for one person may not be the best for you. You have to consider your requirements and the environment you will be camping in. By learning what to look for in a piece of camping gear you can find what is best for you.